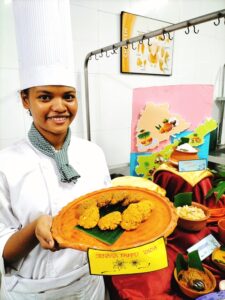 INGREDIENTS
Channa dal 260gm
Ginger 25gm
Green chillies 30gm
Coriander leaves 8 sprigs
Cumin Seeds 12 gms
Turmeric powder 6 gms
Mint 6 sprigs
Salt To taste
Oil 1.5 litres (For frying)
Chef of the day: Nisha sharma (BCTCA 1st Sem)
PROCEDURE
Wash and soak the channa dal overnight.
Grind the chopped ginger,chillies,coriander & mint coarsely and keep it aside.
Grind the channa dal coarsely and add salt and turmeric powder. Mix well.
Add the coarsely ground ginger chilli mixture to the dal and mix well.
Heat oil in a kadai till it is slightly smoking.
Take around table tennis ball size mixture and shape into round patties by patting into a flat disc.
Place the discs gently into the hot oil and deep fry until golden brown colour.
You can also shallow fry on a griddle until slightly coloured.
Serve hot with coconut or mint chutney.