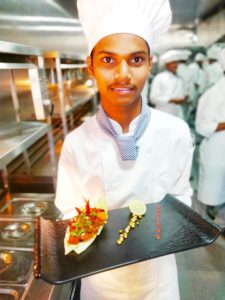 INGREDIENTS:
FOR THE SAMBAL GORENG
• 100 gms Tomatoes chopped
• 25 gms Bird eye chilies chopped
• 100 Large shallot chopped
• 10 gms Garlic chopped
• 12 gms Fresh chopped galangal
• 10 gms Fresh chopped lemongrass
• 10 gms Shrimp paste
FOR THE UDANG BALADO (SPICY SHRIMP)
• 30 ml Vegetable oil
• 250 gms Large shrimp peeled and deveined
• 75 gms Onions sliced
• 20 ml Lemon juice
• 8 gms Sugar
• To taste Salt
• 20 gms Coriander leaves chopped
METHOD:
1. To make Sambal paste: Add the tomatoes, chillies, shallots, garlic, galangal (or ginger), lemongrass and shrimp paste to a food processor and process to form a curry paste. Keep the sambal paste aside.
2. To make the UdangBalado: Heat a large pan to medium high heat and add the oil.
3. Add the sliced onions and sauté for a few minutes till onions are translucent.
4. Add the sambal paste and sauté for 5 minutes, stirring continuously. It will cook through and become fragrant.
5. Add the shrimp to the sambal paste and sauté till the prawns change its colour and curl up.
6. Add sugar, lime juice and salt. Stir and cook 2-3 minutes, or until the shrimp cooks through. Adjust for sugar and salt to taste.
7. Serve with chopped coriander leaves and hot rice.