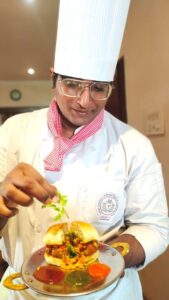 Ingredients
For the Dabeli Masala Powder
3 dried red chillies
10gms coriander seeds
10gms cumin seeds
6-7 cloves
2 inch piece of cinnamon stick
For the filling
3 boiled & mashed/grated potatoes,
50 ml date & tamarind chutney
15 ml lime juice
20gms Dabeli masala
5gms sugar
12ml oil
15ml butter
Salt to taste
Other ingredients
4 nos pav bread
10 gms masala peanuts
3-4 tbsp pomegranate arils
25 gms Nylon sev, as required
5 gms finely chopped coriander leaves
100 gms finely chopped onions
Red chilli garlic chutney, as required
Date & tamarind chutney, as required.
Chef of the day: Yeshwanth Verma (BCTCA 4th Sem)
For the Dabeli masala powder
Dry roast the ingredients in a skillet over low heat until fragrant. Transfer to a blender, let it cool completely, then blend to a fine powder.
Heat oil in a heavy bottomed pan, add in roasted peanuts, toss it in the oil for a minute.
Add red chilli powder, turmeric powder and salt to taste. Toss to coat the spices with the peanuts. Cook for another 2 minutes on medium heat. Switch off the heat, transfer to a plate.
For the filling
Heat oil & butter in a pan. Add mashed potatoes, along with salt, sugar, dabeli masala & 2-3 tablespoons of water. Mix well, and sauté until the spices are fragrant and cooked well.
Now add date-tamarind chutney and lime juice. Mix well, and cook till the mixture becomes dry and leaves the sides of the pan.
Transfer the mixture to a serving platter and spread it evenly, top with masala peanuts, finely chopped cilantro, chopped onions, pomegranate arils & nylon sev.
To assemble the dabeli
Slit the pav horizontally without cutting all the way through. Spread red chilli garlic chutney on one side and date-tamarind chutney on the other side of the pav.
Place a layer of the potato stuffing; top it with finely chopped onions and masala peanuts. Prepare the remaining 3 pav's in the same way.
Heat 2 tablespoons of butter in a skillet, toast the dabeli on both sides, pressing it slightly, till done.
Roll the sides of the dabeli in nylon sev, so that the sev sticks to the mixture on all 3 sides. Serve with more masala peanuts & chopped onions on the side.