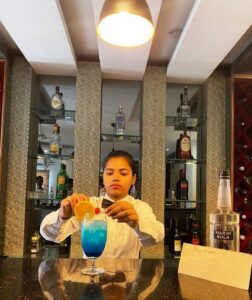 Ingredients:
30 ml Vodka
30 ml Blue Curacao
10 ml Lemonade
100 ml Crushed Ice
For Garnish
2 nos Fresh Cherries
1 no Orange Slice
Bartender of the day: A Pooja(BHM&CT 3rd sem)
Preparation
Put crushed ice in to the glass and pour vodka & curacao over it.
Stir them well & top up with lemonade.
Garnish with cherry & orange slice.