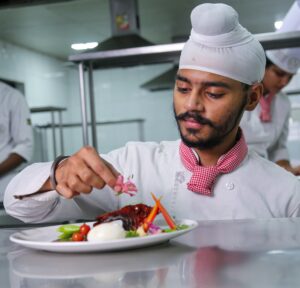 Mr. Hardayal singh (BCTCA 5th sem) is a dedicated and diligent,young aspirant who is exceptionally good at his culinary arts.IIHMCA has selected him as the Chef of the Day.
INGREDIENTS
1 kg Duck, skin on
500 gms Leeks
200 gms Carrots
150 gms Celery
200 gms Brussel sprouts
100 gms Cherry tomatoes
150 gms Parsnip
20 gms Garlic cloves
25 gms Mixed herbs
3 sprigs Rosemary
100 gms brown sugar
50 ml Worcestershire sauce
25 ml Soy sauce
15 gms Salt
15 gms Black pepper
250 ml Chicken broth
Method
1. Preheat the oven to 205°C/400°F.
2. Joint the duck into 8 pieces.
3. To prepare the marination, mix brown sugar, soy sauce, worcestershire sauce, salt and pepper
in a bowl and mix well.
4. Marinate the duck pieces with the marination mix for 25 mins.
5. Put the duck, skin side down, in a skillet large enough to hold all the ingredients. Put the
skillet on the stovetop then turn the heat to 'medium'. Brown the legs slowly and evenly (it
will take about 20 min). Season with salt and pepper to taste.
6. Meanwhile, prepare the vegetables: Remove and discard about ¼ of the dark-green part of
the leeks, then chop them coarsely; dice the carrots and celery; press the garlic.
7. When the duck pieces are nicely browned, turn and sear the meat side for 1-2 min. Transfer
the duck to a plate. Remove all but about one tablespoon of the fat.
8. Add the vegetables and garlic to the skillet. Season with salt and pepper, then add the herbs.
9. Sauté the vegetables over medium-high heat with occasional stirring, until they start to
become golden-coloured, about 10 min.
10. Return the duck to the skillet, skin side up. Pour in the broth. It should come about halfway
up the duck, but should not cover them. Bring the liquid to a boil, then put the skillet in the
middle of the oven.
11. Cook 30 min, then lower the heat to 175°C/350°F. Continue to cook until the meat is tender
and the liquid is reduced, an additional 30 min.
12. Serve duck on the bed of vegetables and cherry tomatoes. Garnish with edible flowers and
parsley.