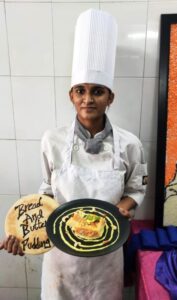 Ingredients:
1 Loaf White Sliced bread
175 gms Raisins
Egg Mixture:
3 nos Eggs
400 ml Milk
250 ml Thickened Cream
40 gms Un-slated Butter
Chef of the day: Shravani (BCTCA 6th Sem)
125 gms Sugar
5 gms Cinnamon powder
6 ml Vanilla essence
For Finishing:
30 gms Un-slated butter – for greasing the tray
20 gms Un-salted butter – for brushing after baking
45 gms Icing Sugar – For dusting
Method:
Pre-heat oven to 180°C/350°F.
Egg Mixture: Place eggs in a large bowl, whisk briefly. Add remaining Egg Mixture ingredients and whisk.
Soak Bread: Arrange bread and raisins, in a tray. Pour egg mixture over the bread, then set aside for 3 minutes to allow egg mixture to soak through the bread.
Drizzle then bake: Drizzle over melted butter, then bake in the oven for 25 – 30 minutes or until golden on top and the inside is set but still slightly wobbly (poke to check).
Brush with remaining melted butter (optional), then dust with icing sugar.
Serve – rest for a few minutes, then cut & serve immediately, with toppings of choice!