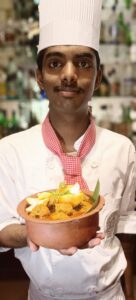 Mr.KALYAN (BCTCA 3RD sem) is a dedicated and diligent, young aspirant who is exceptionally good at his culinary arts. IIHMCA has selected him as the Chef of the Day.
Ingredients
For Marination
500 gm Chicken cut with bones
30 gms Ginger Garlic paste
20 gms Salt
10 ml Lemon juice
10 gms Turmeric powder
For Paste
100 gms Khus khus
50 gms Til seeds
30 gms Coriander seeds
20 gms Cumin seeds
15 gms Fennel seeds
50 gms Ginger Garlic chopped
100 gms Desiccated coconut
5 gms Pepper corn,
5 gms Cloves
5 gms Green cardamom
5 gms Star anise
5 gms Cinnamon stick
10 gms Whole red chilies
50 gms
For Gravy
300 ml Oil
50 gms Ghee
5 gms Whole red chilies
2 sprigs Curry leaves
5 gms Mustard seeds
5 gms Cumin seeds
25 gms Ginger garlic paste
120 gm Shallots, sliced
5 gms Green chilies
175 gms Tomatoes
50 gms Tamarind
5 gm Salt to taste
20 gm Turmeric powder
20 gms Red chili powder
10 gms Garam Masala powder
Method:
Marinate The Chicken
Mix chicken with salt, ginger garlic paste, turmeric and lime juice in a large bowl and keep aside for ½ an hour.
Make The Chettinad Masala Paste
Add coriander seeds, cumin seeds, fennel seeds, poppy seeds, garlic, cinnamon, star anise, green cardamoms, black peppercorns, cloves, and dry red chilies to a pan.
Dry roast on medium heat for 1 minute, until the spices are fragrant, stirring continuously.
Remove the roasted spices on a plate and keep them aside.
Add coconut to the same pan and roast until it is dark brown in color, stirring continuously.
Transfer the roasted spices and roasted coconut to a blender along with 1 and ½cups of water and blend to make a smooth paste.
Make the Curry
Heat oil in a pan over medium-high heat.
Once the oil is hot, add mustard seeds, cumin, red chilies whole, curry leaves and shallots and fry until they turn lightly brown, stirring frequently.
Add ginger garlic paste and cook until the shallots are nicely browned.
Now add the marinated chicken and cook for 4-5 minutes, stirring frequently.
Add the Chettinad masala paste, tomatoes, and green chilies and cook for 3-4 minutes.
Add turmeric powder and Guntur chili powder and mix well.
Add tamarind pulp and cook for a minute.
Now add 1cup of water and mix well.
Reduce the heat to low.
Cover the pan with a lid and cook for 40-45 minutes until the chicken is cooked well. Stir a few times in between.
Check the seasoning, and sprinkle generous amount of coriander leaves and serve hot.