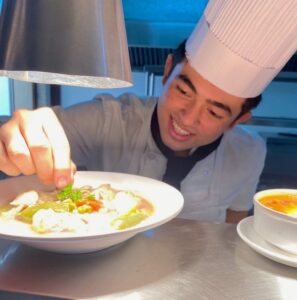 Mr.Anil karki (BHMCT 5th sem) is a dedicated and diligent,young aspirant who is exceptionally good at his culinary arts.IIHMCA has selected him as the Chef of the Day.
Ingredients
4 nos Chicken legs, cut into joints
35 ml Peanut oil
45 gms Pancetta bacon
25 gms Refined flour
6 gms Salt
5 gms Black pepper, powdered
150 ml Dry white wine
12 nos Baby potatoes, peeled
8 nos Cremini mushrooms, quartered
200 gms Frozen green peas
300 gms Carrots, diced into
12 gms Garlic, crushed
50 gms Pearl onions
300 ml Chicken stock
2 sprigs Fresh thyme
5 sprigs Fresh parsley, chopped
Method:
Heat oil in a Dutch oven.
Sauté the pancetta for about 2 minutes in the hot oil. It should be a little crispy. This will give the stew incredible flavour.
Add the chicken legs and sauté for 8 minutes. Turn once after 4 minutes so they get a good browning on each side.
Add the flour, salt, and pepper together. Sprinkle the mixture over chicken and stir well, cooking for about 1 minute.
Add wine and chicken stock and stir well.
Add the potatoes, mushrooms, pearl onions, carrots, and garlic.
Make a small bundle of a few pieces of fresh thyme, wrapping one piece around the bundle. Add it to the stew and gently stir so thyme is submerged.
Bring stew to a full boil. Reduce heat to low and cover, cooking for 45 minutes.
When you are ready to serve the stew, add the peas and cook for 2 minutes if using frozen peas or a couple of minutes longer if they are fresh.
Sprinkle with parsley just before serving.
Serve along with sough dough bread or on top of risotto.