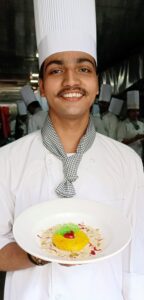 Student who is selected for the Chef of the day is Mr.Akash Mishra(BCTCA 5th SEM) of Indian Institute Hotel Management and Culinary Arts for showcasing exemplary skills.He is very talented student, always striving to perfect the art of cooking.
INGREDIENTS
10 slices Whole wheat bread
75 ml Ghee
1lt Milk
1 pinch Saffron
50 gms Mixed nuts
Sugar Syrup
250 gms Sugar
250 ml Water
5 gms Cardamom powder
A pinch Saffron
Method
Preheat oven to 180°C (350°F).
Prepare the Rabdi by boiling milk till it reduces to 1/3rd
Add 100 gms sugar and a pinch of cardamom powder and still well. Rabdi will be thick. Keep aside.
Heat water and sugar in pan, add the saffron strands and allow the water to come to a brisk boil. Turn the heat to low and simmer the sugar water until you get a one string consistency. Turn off the heat and keep the sugar syrup aside.
Cut the edges of the bread and slice them into a triangle.
Heat ghee in a skillet and shallow fry the bread pieces until they are crisp and golden brown in color on both sides.
Once the bread slices are fried, soak each slice in the sugar syrup for about a minute and place them on a serving platter. Pour the prepared Rabdi over the bread slices and garnish with the chopped nuts and serve.
You can serve the Kesar Shahi Tukda With Rabdi either chilled or warm.