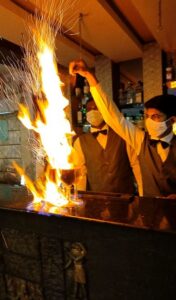 Ingredients
6 nos Blackberries
4 nos Strawberries
45 ml Gold rum (bourbon is fine too)
Few drops Bitters
12 ml Honey
5 ml Lemon juice
5 gms Fresh rosemary
10 ml 151 proof spiced rum ( for Flame effect)
Method of Preparation:
Combine the blackberries, strawberries, Golden Rum, bitters, honey, lemon juice and rosemary in a cocktail shaker.
Muddle, squishing the berries to release the juices. Add ice and shake to combine.
Strain into a goblet or wine glass. Top with a dash of 151 proof spiced rum.
Then using a lighter, light the drink on fire. You can sprinkle with cinnamon to ignite sparks.
Blow the flame out, and then add a cube of ice to chill. Drink!